Sunday, December 31, 2006
The Best Web Design Examples on the Internet, Web Design Articles, and Web Design Resources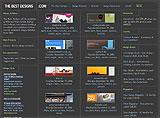 The Best Designs recognizes web sites that stand out among the rest and that are designed with the audience in mind. Instead of featuring CSS-only or Flash-only sites, TBD recognizes both. Either method works well as long as the site is designed for its audience and is the best of its class.
The site is updated weekly, sometimes three times a week, sometimes once. It depends on how many of the weekly submitted sites are selected to be added to TBD. Usually only 15% or less of the submitted sites are selected.
Visit The Best Designs.
Browse By Date
February 2007
S
M
T
W
T
F
S
1
2
3
4
5
6
7
8
9
10
11
12
13
14
15
16
17
18
19
20
21
22
23
24
25
26
27
28
Browse by Topic
Archives
Related Sites & Friends
PhotoshopSupport
Blue Vertigo
The Free Site
Yotophoto
MorgueFile
ImageAfter
Open Photo
StockVault
Texture Warehouse
Stock.Xchng
Texture King
Piotr.Pix
FeaturePics
N.Design Studio
WallpaperStock
Pixel Perfect Digital
Buy/Sell Stock Photos
iStockPhoto
Dreamstime
Fotolia
123RF
Shutterstock
StockXpert
Big Stock Photo
Sponsors