Wednesday, November 08, 2006
NetDiver - Devoted to Tutoring, Empowering and Stimulating Creativity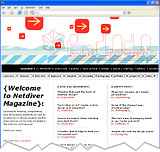 Devoted to tutoring, empowering and stimulating creativity as well as excellence in design projects by the international community involved in the design industry and beyond!
The name "netdiver" (circa 1995) was created in opposition to hype word du jour *netsurfer*. We wanted to convey that our dedication was to search deep to find pearls and that our process for picking sites to display, would be thorough, tending always towards excellence and not be superficial in our evaluation. Past buzz recognizing us a quality content broadcaster.
Carole Guevin is an experienced communication designer, new media pioneer, theorist, philosopher and founding partner of FYE creative continuum, the publisher of Netdiver digital culture magazine.
She is an internationally recognized driving force through her work as editor of netdiver.net which broadcasts high fiber low noise content about the emerging digital culture since 1998.
An unrelenting industry evangelist, activist and catalyst, she extends awareness and champions the LUV of design online and beyond.
Visit NetDiver.net

Browse By Date
March 2007
S
M
T
W
T
F
S
1
2
3
4
5
6
7
8
9
10
11
12
13
14
15
16
17
18
19
20
21
22
23
24
25
26
27
28
29
30
31
Browse by Topic
Archives
Related Sites & Friends
PhotoshopSupport
Blue Vertigo
The Free Site
Yotophoto
MorgueFile
ImageAfter
Open Photo
StockVault
Texture Warehouse
Stock.Xchng
Texture King
Piotr.Pix
FeaturePics
N.Design Studio
WallpaperStock
Pixel Perfect Digital
Buy/Sell Stock Photos
iStockPhoto
Dreamstime
Fotolia
123RF
Shutterstock
StockXpert
Big Stock Photo
Sponsors